What Is Fiber Patch Panel?
Fiber optic patch panel, or cross connect patch panel, is a mounted hardware unit containing an assembly of port locations in a communication or other electronic or electrical system. Fiber patch panel is used to terminate the fiber optic cable and provide access to the cable's individual fibers for cross connection.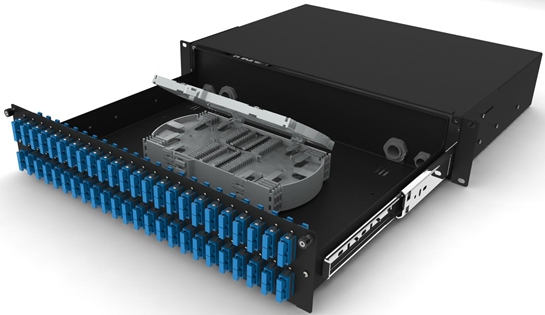 Fiber optic patch panels are mostly mounted in 19 inch relay racks, but they can also be mounted on freestanding rails, in cabinets and also on walls. In a typical setup, the connection consists of a shorter cable plugged into the front side of the patch panel and a longer cable plugged into the back. In this way, the panel can take the place of otherwise expensive switching equipment. For fiber optic cabling installation, you should plan the location of your fiber connectivity hardware carefully, including fiber patch panels. You can choose between direct cross connection and patch panel. It is also necessary to arrange your routing and dressing of your fiber patch cords if you choose to use fiber panels. In the meantime, you also have a choice to use fiber cable management brackets to avoid the dangling fiber patch cables.
In addition to having different lengths of cable connecting to the front and back, patch panels can have different types of electrical connectors as well. One example of this is a breakout box, which has individual connectors on the front leading to a compound connector on the back, into which all of the individual cables plug. Breakout boxes usually have an even number of individual connectors, but this is not always the case.
How Does A Patch Panel Work?
Network infrastructure cabling usually includes a large number of Category 5, 5E, 6 or cat7 Ethernet cables that are pulled from various locations throughout a building into a single wiring closet. In order to organize the cables and protect them from damage, fiber optic patch panels that feature punchdown blocks for terminating the cables are used extensively in wiring closets. Connect network infrastructure cables to the back of a patch panel using a punchdown tool and wire-strippers.
Fiber patch panel usually is composed of two parts, the compartment that contains fiber optic network adapter (bulkhead receptacle), and the compartment that contains fiber optic splice trays and excess fiber cables. If you want a even neater cable management, you can also use a fiber optic patch cable management tray to neatly store and manage excessive fiber patch cable lengths. A patch panel separates the hardwiring of your network from your networking equipment. Each run of cable that goes throughout the house or building is punched down on the back of the fiber patch panel.
Rather than RJ45 ports, this side is equipped with punch down terminations and color-coding for T568A and T568B wiring. There are also independent verification testing symbols for UL and 3P. Each set of punch down terminations corresponds to a port on the front of the panel. Patch Cables connect the ports on the front of the patch panel (or panels) to your networking equipment (such as switches, hubs, and routers).
Most patch panels have redundant power supplies attached in order to ensure that power failures do not result in data transfer failures. Specialized patch panels, like switching routers, can make switching between one connected device to another as simple as the press of a button, without any need to rewire the connections.