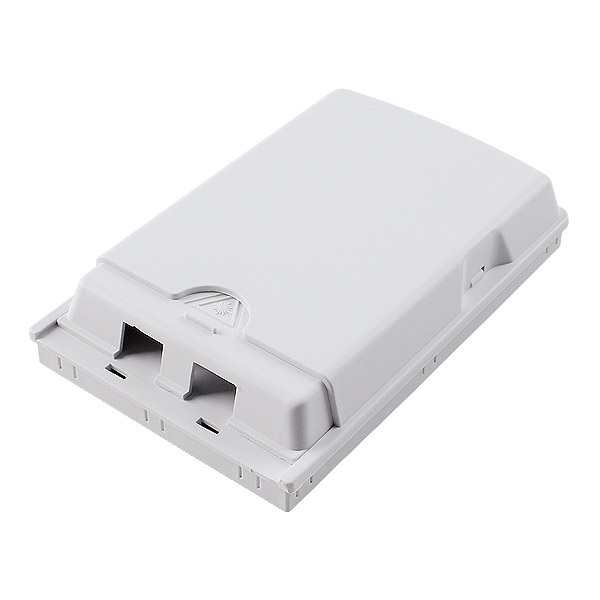 2 port Indoor SC Wall Mounted Fiber Termination Enclosure c
Free Fiber Wall Outlet Faceplate Sample
Made of High Grade Flame Resistant Material
Suitable to SC FC LC Fiber Adapters & Pigtails
Reasonable Bending Radius for Fiber Protection
Smart design made installation easy
Teleweaver P/N:

#FDB02E

Product ID:

#694
Send Inquiry Now
Free sample(s) will be sent in 1-3 days usually.
Introduction to 2 port Fiber Termination Enclosure
This 2 port Outdoor Wall Mounted Optical Fiber Distribution Box FTTH Termination Box is used for splicing and termination between indoor SC LC FC fiber optic cable and pigtails. used for wall mounted to connect indoor cable with drop cables.
FAQs on 2 port Fiber Termination Enclosure
What items are included in this SC LC FC Fiber Wall Outlet Faceplate Socket Panel SP01A?
A main parts (cover and base), 2 screws and 2 pcs heat shrinkable sleeves.
2 port Fiber Termination Enclosure Features
Applicable to FTTH, FTTO and FTTD, etc.
The clasp design of the cover has greatly reduced the installation strength. It is very thin and matches with other A86 panels in homes, and also meet the open or concealed cabling for optical cables
Coordinating with FC strip-type optical adapter, it generates more options in term of fiber interfaces for users, SC, LC and SC/FC are all available
The big-diametered wrapping post in the box protects radically in an omnibearing way.
2 port Fiber Termination Enclosure Detailed Images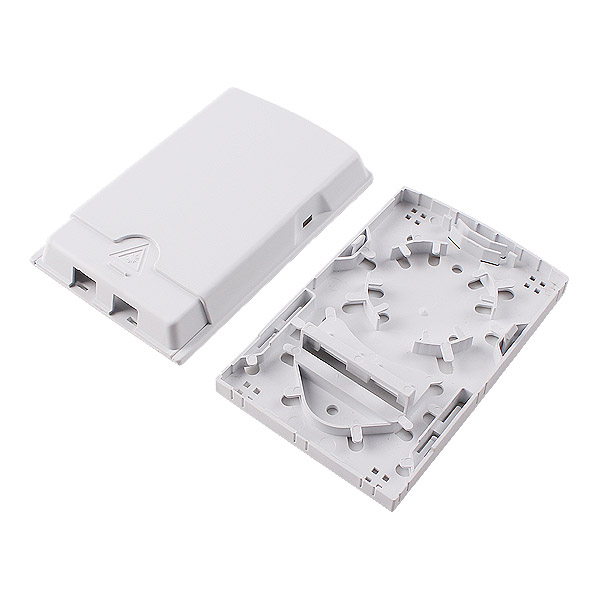 2 port Indoor SC Wall Mounted Termination Enclosure FTTH Optical Fiber Distribution Box inside
2 port Fiber Termination Enclosure Application
2 port Fiber Termination Enclosure Specification
| | |
| --- | --- |
| Suitable Adapters | SC LC |
| Material | With fire-proof ABS plastic |
| Weight | 100g |
| Available Cable | 3.1mm*2.0mm rubber fiber cable |
| Outlet | 2 Port |
| Installation way | Wall Mount |
| Dimensions | 130*85*25mm |
| Applications | Wall Mount Distribution Use |
| Compatible Riser Cable Types | Yes |
| Connector Capacity | 1 pcs SC or 2 pcs LC connectors |
| Connector Type | SC LC |
| Drop Cable Connection | Yes |
| Includes Splitters | No |
| Indoor Outdoor | Indoor Cable |
| Location | Wall Mount Usually |
| Location of Use | FTTH FTTB |
| Lock Compatible | Button |
| Number of  Terminal Drops | 1 or 2 Cables |
| Number of Trays | No |
| Product Type | Wall Mount Termination Box |
| Solution for | Wall Mount Cabling |
| Splice Capacity | 1 fibers |
| Splitter Capability | Yes |
| Trademark | Teleweaver or Customized |
| Lead Time | 5 days for 100pcs, 10 days for 800pcs |
| MOQ | 100pcs |
Get Response in 6-12 Hours